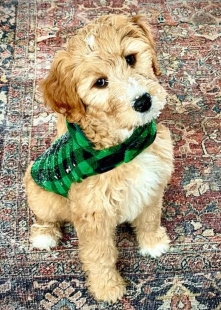 Hi Dede,
I just wanted share a picture of Winnie and let you know how much we love her, and what a big role she is playing in healing our broken hearts.
I wanted to share this with you because, as you already know, dogs are healers. There's a song about God spelled backwards is Dog. Winnie is the glue that's helping my family piece our broken hearts back together. If there is anyone in the future that asks for a recommendation of a responsible and loving doodle breeder, we will be sure to tell them about you and your husband. Maybe someday we'll be back again looking for a brother or sister for Winnie.
Have a blessed Christmas season with your loved ones.
Kirsten and Peter Rossum