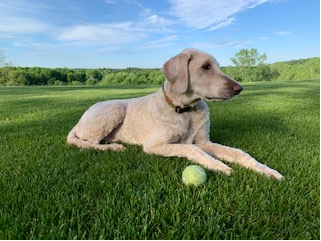 Scout was an amazing dog who left this world far too soon.  It was a tough choice for my wife and I when choosing between Scout and his yippy little sister on the day we got to choose, but Scout was so energetic and we could tell he had a nose for mischief and snuggling.  From the moment we picked him up on the farm he was a faithful and loving member of the family. 
Scout had a never-ending love for chasing down tennis balls and running beside me while I mountain biked.  While in his prime there wasn't a dog or person that could beat Scout in a foot race, his speed amazed all that had the chance to see him run.  When our human children arrived, Scout welcomed them and he was a gentle and loving older brother that accompanied our daughters on all of their adventures.
Our best memories of Scout are the little things, he greeted us at the door every time we came home, he snuggled with us when we needed it and when we didn't.  Scout lived a full life, was loved by everyone, and loved everyone back.  Goodbye Scout, we love you.