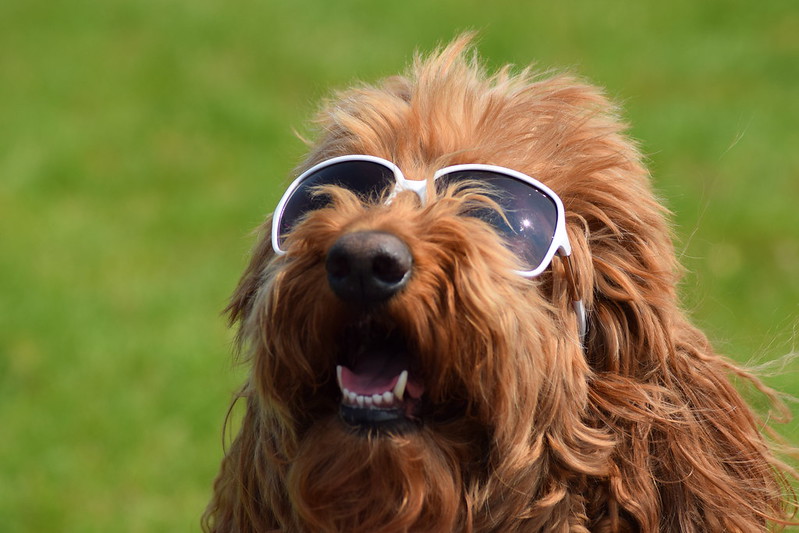 We brought home our sweet Shauni in April 2007 (her parents were Goldie and Calvin).  I was 11 and my brother was 7 and we were both very excited to have a new puppy.  From the day we brought her home, she was very social and gentle with my brother and me.  Mom took her to "school" (obedience class) almost every week for close to two years.  She was very smart and picked up on things very quickly.  She loved to go swimming at the lake, retrieve the ball in the backyard, go for walks, supervise our garden activities, roll in the piles of leaves and grass clippings in the spring and summer and trench her toy through the snow drifts in the winter.  Her favorite place to be was anywhere her family was.
Every morning she was my 4-legged alarm clock (assisted by Mom and Dad).  She was only allowed on our beds in the morning and at night and I knew when I heard the sound of the dog bounding up the steps and pushing my door open with her head that there would soon be 50 pounds of furry excitement landing on my bed, likely accompanied by a wet nose and kisses.  She was a regular presence on the sidelines at tennis matches and Ultimate Frisbee tournaments and I always looked forward to seeing her furry head in the front seat of the car at the end of the school day.  I love my whole family, but Shauni was (to borrow a phrase) "my favorite hello and hardest goodbye."
She slowed down a bit later in life and enjoyed her "retirement years."  She had more special privileges than she had had "growing up"…laying on Mom and Dad's bed, intentionally being fed table scraps rather than just what she could find on the floor (this was shocking to me at first, since we had been pretty strict about not feeding the dog from the table for over 12 years), extra treats on her food, etc.  Her interests shifted from swimming at the lake to just lounging on the dock, watching people fish and occasionally dropping her ball in the water so she could go get it.  Instead of chasing squirrels, she preferred to just watch them (especially when riding in the car).  She did fewer retrieves when we threw the ball or flying toy, then either sniffed around the yard or relaxed in the sunshine.  She was the center of attention on the sidelines at Ultimate Frisbee tournaments, made road trips to visit my brother and me at college, and everywhere she went, she was well-known and well-loved.  Even though she slowed down in some ways near the end, she remained the gentle, sweet, loving dog she always was. 
Her 13 years with our family were full of love and she brought so much joy to our lives and the lives of many others.  From the day we brought her home until the day we said goodbye, we all agree that she was the best dog we've ever had.  She was more than "just a dog"; she was truly a member of the family and our lives are forever changed because of her.