Sartell MN Goldendoodle Adoption Story – Lincoln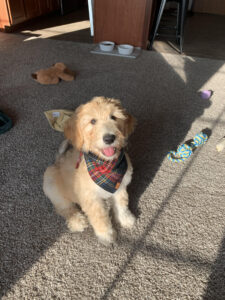 Meet Lincoln, a cherished Red Cedar Farms Goldendoodle living with in Sartell MN.
---
Hi, Dede!
Just wanted check in and give you an update on Lincoln. He's doing great! He's so friendly and loves to meet other people. He's been potty trained for a couple weeks now, and knows a few tricks. I'm so so thankful for you, he is such a blessing to me and my family!
---